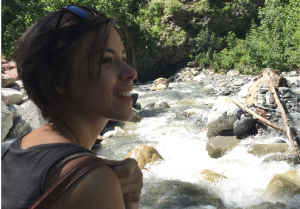 I am Mara Graziani and I am a PhD candidate at the University of Geneva and Hes-so Valais.
My career objective as a PhD student is to use clinically relevant measures to explain the decisions of machine learning systems for medical imaging and improve their interaction with physicians.
I currently work on the EU Horizon2020 project PROCESS, developing exascale solutions for medical imaging together with top-level High Performance Computing infrastructures and big data centres in Europe.
Contact Details
University of Applied Sciences Western Switzerland, Sierre (HES-SO)
Techno-Pôle 3
3960 Sierre, Switzerland
Tel +41 27 606 9003
Fax +41 27 606 9000
email: mara.graziani at hevs.ch
Publications:
Graziani, M., Andrearczyk, V., & Müller, H. (2018). Regression concept vectors for bidirectional explanations in histopathology. In Understanding and Interpreting Machine Learning in Medical Image Computing Applications (pp. 124-132). Springer, Cham.
Graziani, M., Brown, J. M., Andrearczyk, V., Yildiz, V., Campbell, J. P., Erdogmus, D., Ioannidis, S.,Chiang, M.F., Kalpathy-Cramer, J., & Müller, H. (2019, March). Improved interpretability for computer-aided severity assessment of retinopathy of prematurity. In Medical Imaging 2019: Computer-Aided Diagnosis (Vol. 10950, p. 109501R). International Society for Optics and Photonics.
Hluchý, L., Bobák, M., Müller, H., Graziani, M., Maassen, J., Spreeuw, H., Heikkurinen, M., Pancake-Steeg, J., Spahr, S., vor dem Gentschen, Felde, N.O., & Höb, M. (2020). Heterogeneous Exascale Computing. In Recent Advances in Intelligent Engineering (pp. 81-110). Springer, Cham.
Research Interests
Deep Learning
Large Scale Machine Learning
Medical Image data
Statistical Modeling on time series data
Projects